Leadership team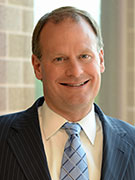 Charles A. Paquelet, CFA
Portfolio Manager/Research Analyst
Prior to founding Skylands Capital in 2004, Chip was a principal at Strong Capital Management, Inc. which he joined in 1989. During his tenure at Strong, he served as portfolio manager of two private investment partnerships, an offshore hedge fund, four mutual funds and numerous separate accounts. Prior to joining Strong, Chip worked as a financial analyst for B.F. Goodrich & Company.
Chip earned his Bachelor of Science degree from Case Western Reserve University's Weatherhead School of Business in 1987. He then entered Indiana University's Master of Business Administration program which he completed in 1989 with a specialization in finance. Chip earned the right to use the Chartered Financial Analyst designation.
Virginia E. Riesing
Vice President, Treasurer and Chief Compliance Officer
Prior to joining Skylands Capital in 2019, Virginia worked as the Accounting Manager at Associated Benefits & Risk Consulting, a division of Associated Bank, formerly Bank Mutual which she joined in 2014. Virginia held Assistant Director positions at Northwestern Mutual in financial consulting and in fund administration from 2008-2014. She also worked in hedge fund administration at US Bancorp Fund Services, LLC from 2005-2008. Virginia began her career at Strong Capital Management, Inc. in 1998 as a mutual fund accountant and held various leadership roles in fund and client accounting.
Virginia grew up in southeastern Wisconsin and earned her Bachelor of Business Administration degree in accounting from the University of Wisconsin-Whitewater in 1997.